Finances & Divorce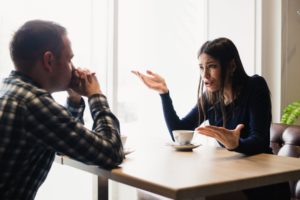 Deciding how a couple's assets should be divided is often one of the most stressful issues arising from a divorce or dissolution of a civil partnership. Our divorce solicitors understand that the need to address matters such as what should happen to the family home, how belongings should be split and whether maintenance payments are necessary can greatly complicate an already challenging situation. We take the time to get to know you and understand your priorities. We provide straightforward, empathetic advice and work tirelessly to achieve the best possible outcome for you in all matters arising from your divorce or separation, including the financial aspects.
Megan and Clive provided solid legal advice and guidance at a very stressful time. They ensured that I understood and met my legal obligations, reassured me regarding the possible outcomes and fully explained the legal process. Their calming approach together with their excellent Barrister recommendation and handover, lead all in all to a fair settlement. Thank you Guys. Anthony Whorms
For immediate assistance on any financial issues in divorce, please call us now on 0203 463 1300 or click here to make an enquiry.
What financial issues must be decided when a couple divorces or separates?
Since every marriage or civil partnership is different, so too are the financial issues that fall to be decided when it breaks down. Examples of matters that often arise include:
What should happen to the family home? Should one party remain living there and buy the other out? Should it be sold, and the profits divided? Is another solution more appropriate in the circumstances?
Are maintenance payments necessary, either to a spouse or any children? If so, what level of maintenance is required and how and when should it be paid?
How should assets such as savings and investments be split?
Is either party entitled to a share of the other's pension? If so, will the entitlement arise when the pension takes effect or is it more fitting for payment to be made sooner? If so, is pension offsetting a sensible compromise, whereby the receiving party accepts a greater share of other assets and surrenders any future entitlement?
How should the couple's belongings, such as cars, furniture and jewellery, be dealt with?
How are assets split in a divorce?
The law relating to the financial aspects of a divorce is complex. It is deliberately vague, allowing Judges to make a value judgment based on the circumstances of the individual case.
Whilst the resultant flexibility is generally welcomed, it creates uncertainty for the couple. No hard and fast rules can be applied when seeking to identify what each party will be awarded when their relationship ends. Instead, the Court has a wide discretion and will make its decision based on several factors, including:
The welfare of any children, which is always the first consideration.
Each person's financial situation including their respective needs, income, earning potential and any other means.
The lifestyle enjoyed by the couple and any children before the split.
The age of the couple and the length of time they were together.
The financial position of any new partner.
How can the financial aspects of a divorce or separation be settled?
Our clients are often relieved to hear that there are several ways to resolve the financial aspects of a divorce or separation that do not require the Court's involvement. We are committed to ensuring that disputes are settled as swiftly and constructively as possible, and view litigation as very much a last resort. Instead, where appropriate, we employ proven alternative dispute resolution methods such as mediation and solicitor-led negotiations.
Every method operates slightly differently. For example, in solicitor-led negotiations, we undertake discussions with the other party on your behalf through correspondence, telephone calls or meetings, as required. We are your voice, putting forward your position and negotiating the best possible settlement terms with your ex-partner or their legal representatives. Mediations, on the other hand, involve an independent third party who assists the parties to reach a settlement. We will still be with you throughout the process and speak on your behalf, to the mediator or the other party, where necessary. All alternative dispute resolution methods have the same aim – to assist the couple in reaching a settlement of their issues as quickly and amicably as possible. They are usually cheaper, faster and far less stressful than Court proceedings. They allow the parties flexibility to reach an agreement specifically tailored to their circumstances.
Our divorce solicitors are experienced in all methods of alternative dispute resolution. We will advise on the most suitable method in the circumstances and guide you through the relevant process with care and understanding. If litigation proves unavoidable, we will work tirelessly to prepare your case and ensure it is presented in the best possible way at Court. Whatever method is chosen, we will be with you every step of the way.
How can our solicitors help with the financial aspects of your divorce or separation?
We pride ourselves on being a client- focussed firm with a personal touch. The interests of our clients are at the heart of everything we do. We will never confuse you with legal jargon but instead explain every issue in plain English, ensuring you fully understand your position and are happy with the proposed course of action. Our extensive experience enables us to provide practical as well as legal advice, and we will be on hand to help you navigate every aspect of your divorce or the dissolution of your civil partnership. By demystifying the legal aspects of your separation, we hope to help you and your family to find a positive way forward and look to the future.
For immediate assistance, please call us now on 0203 463 1300 or click here to make an enquiry.
Extremely happy with the service I received throughout. Naomi and Clive have been a great support to me and I am ever so grateful for their help! Would highly recommend CSL Law! Lisa Cunningham
WE ARE HERE TO HELP YOU THROUGH THE LEGAL PROCESS