Divorce and Separation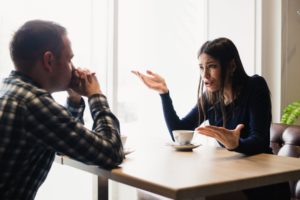 A relationship breakdown can cause immense emotional upheaval, leaving a couple facing an uncertain future whilst dealing with feelings of loss, loneliness and grief. The stress is often intensified by the legal processes that must be followed to formally end the relationship and the issues that need to be resolved. Our team of expert divorce solicitors have a wealth of experience in assisting clients with the legal aspects of their separation. We will guide you through the process with care and empathy, striving to minimise the emotional and financial toll of your breakup.
Frances Kelly and Clive Lawrance make a great team. They are extremely professional and yet never forget that you are a person and not just a client. Their attention to detail is extraordinary, and I felt secure in the knowledge that with them as my legal team I had my best chance at winning. I have absolutely no hesitation in recommending them. Heather Pearton
For immediate assistance on any divorce issues, please call us now on 0203 463 1300 or click here to make an enquiry.
What are the options if you feel your relationship is at an end?
Several options are available to couples who feel their relationship cannot be saved. The most appropriate to your situation will depend on the legal status of your relationship and your personal preference.
Divorce
A divorce is a permanent arrangement that legally ends your marriage. During the divorce process, you will need to consider what happens to the marital home, divide up any joint assets, and, if you have children, make arrangements regarding where they will live and any maintenance payments.
Since the UK's new divorce law came into force in April 2022, couples are no longer required to apportion blame when applying for a divorce, needing only to confirm that the relationship has irretrievably broken down. As has always been the case, either party can apply for a divorce of their own volition, but under the new law, couples can also make a joint application. A divorce application can only be made once a couple has been married for at least a year.
The new law introduced a 20-week cooling-off period following an application to give couples time to explore the possibility of a reconciliation. If the relationship is beyond repair, a couple can use the cooling-off period to resolve the issues arising from their divorce, such as financial matters or those relating to their children.
At the end of the cooling-off period, an application can be filed at Court for a 'Conditional Order', which, once approved, confirms that you are eligible for a divorce. The subsequent 'Final Order' permanently and legally ends your marriage.
Dissolution
Couples in a civil partnership do not get divorced but, instead, can apply for their civil partnership to be dissolved. Whilst the terminology is different, the dissolution procedure is essentially the same as that for a divorce and is governed by the same law.
Judicial Separation
A Judicial Separation allows a couple to separate, live apart and divide up their assets but does not legally end their marriage or civil partnership. It might be a suitable arrangement for couples who do not agree with divorce on religious or moral grounds, are not ready to formally end their union, or do not wish to permanently end their relationship for financial reasons.
A couple can seek a judicial separation at any time during their marriage or civil partnership – they do not need to wait until a year has passed. As in the case of divorce or dissolution, either party can apply, or the couple can make a joint application, but there is no requirement to confirm that the relationship has irretrievably broken down. The 20-week cooling-off period applies in the same way as it does for those seeking a divorce or dissolution. However, following the end of this period, the Court makes just one Order confirming the Judicial Separation.
When making the Order, the Court can make the same financial arrangements as it can in the context of divorce or dissolution, save for some limitations relating to pension sharing. The marriage or civil partnership is not legally ended, so neither party can remarry, but can subsequently apply for a divorce or dissolution in the future should they so wish.
Informal Separation
As their name suggests, informal separations are when a couple separates but does not enter into any formal arrangement. Informal separations can be an attractive option for couples who are unsure about the future of their relationship and wish to embark on a 'trial period' of separation.
Since these types of arrangements are informal, there is no specific procedure that must be followed. Usually, but not always, an informal separation begins when one partner leaves the marital home and the couple no longer cohabits. It is important to understand, however, that any arrangements reached in the context of an informal separation may affect the outcome of any subsequent divorce or dissolution. Furthermore, unexpected tax consequences can arise. Despite their informality, it is, therefore, crucial to take legal advice before embarking on an informal separation.
Make An Enquiry Now
For immediate assistance please call us now on 0203 463 1300 or click here to make an enquiry.
Megan and Clive provided solid legal advice and guidance at a very stressful time. They ensured that I understood and met my legal obligations, reassured me regarding the possible outcomes and fully explained the legal process. Their calming approach together with their excellent Barrister recommendation and handover, lead all in all to a fair settlement. Thank you Guys. Anthony Whorms
WE ARE HERE TO HELP YOU THROUGH THE LEGAL PROCESS