Same Sex Couples
Same sex couples have the same issues as heterosexual couples, whether they live together, are in a civil partnership, or married.  We are able to advise you on any issues that arise with your relationship, be it at the start or on relationship breakdown, as well as any issues specific to same-sex relationships.
We will provide you with tailored, individual, practical advice on breakdown of relationship, be it on property matters where you own a property together, dissolution of civil partnership or divorce.
We will be able to assist you to resolve matters as swiftly and efficiently as possible.
For immediate assistance, please call us now on 0203 463 1300 or click here to make an enquiry.
How we can help
We are experienced in providing practical advice about the process which is suited to your individual circumstances.  We strive to achieve the best possible outcome for you.
In your initial meeting with one of our experienced divorce solicitors, we will discuss the reasons for the breakdown of your relationship, details of when you separated, your family situation and your financial situation.  We will then advise you of the divorce process and what you can expect from us.
We understand that this is a difficult time for your and it is our job to guide you through this time as easily as possible.  We have created an easy to follow guide about the divorce process that we hope you find useful.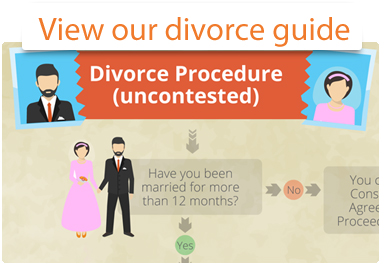 WE ARE HERE TO HELP YOU THROUGH THE LEGAL PROCESS